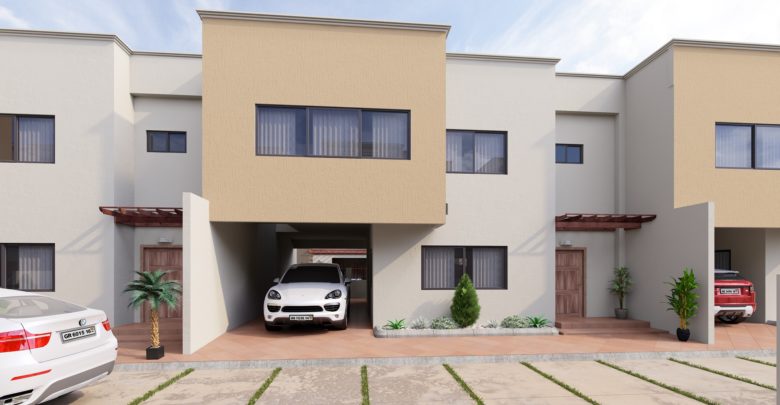 In Ghana, the real estate industry is near perfect, an industry that can boast of having a complete sense of luxury at its core. Providing Elegant custom homes that offer unparalleled craftsmanship and state of the art amenities coupled with designs that are remarkable inside and out.
The industry is rife with luxurious apartments, penthouses, semi-detached homes, story homes etc. Modeled to create a soothing ambiance, these beautiful homes are sited in vantage points across the country to reflect the custom preference of individual homeowners. From the diplomatic and political sphere of Accra to the cozy vibe of Sunyani through to the elegant Garden city of Kumasi, the real estate industry of Ghana has everyone in mind.
These luxurious abodes do not come cheap, they come priced in thousands and millions of dollars but worth every dime.
Wondering what a million will get you in Ghana? Take a stroll with me.
Villagio Vista
Like a giant Goliath standing tall among his peers, the white, green, purple, and yellow-colored tiled apartment is probably the most popular real estate building in the capital. Cited at a stone's throw to the Accra Mall and about a five-minute drive from the airport stands Accra's most sought-after edifice.
The Alto Villaggio Vista, or Villaggio II (official name), is a completed building of 27 rows of flats with 44 apartments. It has been regarded by most Ghanaian news agencies as the tallest building in Ghana as of 2017.
Built by the Trasacco Group with Owners/Developers Metropolis Developments, which was supervised by the Accra real estate development programme in Ghana, the Apartment has an architectural height of 71 meters by 233 feet. The height occupies 59.4 meters by 195 feet, which has made it the tallest building in Ghana.
Located in Accra on street No.1 Trasacco Valley, UPO PMB LG21, it has about 27 floors above ground and one floor underground, with four elevators with a speed of 1.6 m/s.
The Alto Villaggio Vista was designed by architect, Allford Hall Monaghan Morris, along with structural engineers, Adams Kara Taylor and Halcrow Yolles.
Apartments in Villaggio cost no less than $400,000, and no more than $900,000 when furnished.
A Three-Bedroom Apartment costs…. ($850, 000)
SETTING
This luxury three-bedroom ensuite apartment with maid's quarters is located in the Airport Residential Area. The apartment boasts an elegant entrance lobby and a breathtaking rooftop pool and terrace area. It offers an incredible opportunity to live in one of Accra's most prestigious and secure quarters near the Kotoka International Airport and Accra Mall. Major corporate businesses, restaurants, hotels, and international schools are in close proximity.
EXTERIOR AND INTERIOR
With amazing facilities to ensure maximum convenience, minimum disturbance, and peace of mind at all times include:
• Entrance lobby with reception and concierge service.
• Coffee bar and waiting area.
• Beautifully landscaped garden overlooked by all apartments.
• Rooftop swimming pool and bar.
• Parking facilities.
• 24-hr security and surveillance system.
• Backup water supply and automatic standby generators.
• Elevator.
• Onsite maintenance and management office.
• Solid hardwood doors.
• Superior quality tiles.
• High-quality fully-fitted kitchen with hob, oven, extractor fan, microwave, fridge/freezer, and dishwasher.
• Sanitary ware in all bathrooms.
• Central air conditioning system in all rooms.
For sales, rentals and other services, contact +233 (0)302 785756, or email sales@villaggiovista.com.
Buena Vista (Hermosa)
Over the past ten years, the Buena Vista Homes brand has built a solid reputation based on innovation in design and excellent workmanship with special attention to fine detail. In search of a serene, cozy setting for the family, the La Verna is probably the best place for you. The beachy area of Sakumono (Tema) offers a conducive environment every family deserves.
The Hermosa, Five-Bedroom Detached-Storey:  GH C 2,312,824 ($524,450)
SETTING
Seated across the beach in a comfortable environment, the grand and luxurious 5-bedroom two-storey detached family home is located at Sakumono, a five-minute drive from the Junction Mall and about a ten-minute drive from Tema Harbor. Offering a secured gated community, the apartment offers a maximum sense of security and comfort that is hard to imagine.
EXTERIOR & INTERIOR
The Hermosa promises amazing facilities that create wonderful memories in the minds and lives of its occupants. The Marine Drive Residence is clean, serene, and secure. The emphasis has been on the architecture and the lush green environment.
Lawn Tennis Court
Kids' play area
24-hour security
Swimming pools
Club house
For sales, rentals and other services, contact (+233) 303 401 401 or
(+233) 501 304 728, or email sales@mybuenahomes.com or
info@mybuenahomes.com.
Trasacco Valley
In Ghana, it is a tad impossible to talk about real estate and not mention Trasacco Valley.  Having carved a niche for themselves as one of the leading names in real estate development, Trasacco Valley provides excellent craftsmanship, state of the art products, and superior construction techniques.
Trasacco Valley: GH C 1,852, 830 ($420,000)
Obtaining a dream home in Ghana is quite challenging, s a venture which can be fraught with disappointment, frustration, and even ruins. Alternatively, it can be one of the most rewarding and hassle-free investments you ever make.
SETTING
Covering about 410m2 of land, masterful design and modern luxury are uniquely embodied in this 5-bedroom mansion. Located in one of the prime areas of Ghana, the East Legon abode promises nothing but a splendor of elegance and beauty.
The floor plan encompasses four spacious bedrooms with plenty of room for study, sleep and storage, five luxurious bathrooms, and a sleek and stylish kitchen that flows through to the dining room and private rear patio. The master bedroom, complete with walk-in robe and unsuited, ensures parents have a private space where they can enjoy the view.
Perfect for a family or as a holiday retreat, this home is ideally positioned to enjoy the proximity of beaches, cafes and restaurants, shopping centers, and a selection of premier schools in the district capital.
EXTERIOR & INTERIOR
Air conditioning
Cooker
DStv
Garage
Annexe (boys' quarters)
Security service
Generator
Water reservoir
For sales, rentals and other services, contact +233 30 2823475, or email info@trasaccovalley.com.
East Legon
Are you a house hunter boldly seeking to find a luxurious house to complement your refined taste? If so, then this eight-bedroom house is the place for you.
It comfortably boasts of six spacious bedrooms and an attic that's been split into two. Very chic and classy and everything that comfort can offer.
8 Bedroom House At East Legon: GH C 3,088,050 ($700,000)
Located in what Ghanaians presume to be the finest destination of opulence, this East Legon house brings nothing but a splendid sense of luxury. This majestic property houses an impressive landscaping with a well-oriented number of trees and plants to give the feel of either a jungle or a desert. Forged in the center of a spacious and well-secured compound, a water reservoir, a generator, a bombola, and a rooftop terrace to offer Accra's night skyline.
EXTERIOR & INTERIOR
Air conditioning
Cooker
Washing machine
Fans
Refrigerator
Microwave
Internet
DStv
Garden
Annexe (boys' quarters)
Roof terrace
Security service
Generator
Water reservoir
Naa Borley Enclave
The ultimate dream home, Naa Borley Enclave, has been designed to transmit a regal effect on all families. It gives you an opportunity to enjoy the vibes of an exclusive cluster of high-end homes to match your burgeoning status. A copious blend of minimalistic and Mediterranean trendy architecture with the sole aim of presenting the customer with an elegant concept of living in the tropics.
Naa Borley Enclave:  GH C 1,377,198 ($312,290)
Naa Borley Enclave is a community of two-storey detached elegant homes with a one-room outhouse. It has modern interiors. This mid-century-inspired luxury home is brand new and located near the heart of the city. It has five different house styles available. It is a perfect spot to hide out in the city thanks to its beautiful views.
The two-storey great room with French doors to the rear deck is the dramatic focal point of the main level, accompanied by an elegant formal dining room, tremendous chef's kitchen, den/family room with a marble fireplace and glass doors to the backyard, and home office with gorgeous built-ins.
EXTERIOR
Manual swing gate but with options of electronic operation and control (at owner's expense).
Manicured garden; Gardens Top soiled and seeded.
Stone coated roof tile.
Exquisite steel security front door.
White aluminum single-glazed windows with locking mechanism and insect screen.
Paved driveway ground reservoir (Rambo 700) with pump & booster).
Provision of generator platform, change over switch, with 3 phase cable.
INTERIOR FEATURES
Architecturally-molded architraves & skirting.
Wall finish to be quality emulsion paint throughout.
P.O.P ceiling with spotlight in living and dining area.
Stylish range of contemporary fully-fitted luxury kitchen contemporary worksurfaces.
Mod-cons, integrated oven, microwave, hob and extractor.
Modern wash-hand-basin W/C.
Glass-enclosed shower cubicles.
Jacuzzi in master bathroom.
Water heaters.
Ceramic wall tiles.
6 split air conditioning units.
Two central heaters for both ground and first floor.
TV cable and telephone points to all bedroom and living areas.
Gate intercom.
Outlets in certain areas for ceiling fans.
For sales, rentals and other services, contact +233 243-400300, or email marketing@devtraco.com.
Linda's Court
This immaculately presented executive gated community is set amongst manicured grounds within a private and secure complex. As a resident, you will have access to lifestyle amenities including a private pool, communal terraces, concierge service, and basement parking. Upstairs are the lavishly-decorated bedrooms and an open plan living space awash with natural light from the wide-angled windows.
Linda's Court, Cantonment: GH C 3,441,00 ($780, 000) for 10 years.
The elegant plan encompasses five spacious bedrooms with plenty of room for study, sleep and storage, five-and-a-half luxurious bathrooms, and a sleek and stylish gourmet kitchen that flows through to the dining room. Living is easy in this impressive, generously-proportioned contemporary residence with a serene atmosphere devoid of the city's turmoil and stress.
With about a ten-minute drive from the airport and three minutes away from the American Embassy, this house is ideally positioned to enjoy affluence among executive members of society, consulates, ambassadors, and government officials.
EXTERIOR & INTERIOR
Air conditioning
Private swimming pool
Swimming pool
Maid's kitchen
Generator
Garage
24/7 security
Water Reservoir
Lakeside Estate
It is a tad difficult to escape from the somewhat busiest streets of Ghana. Traffic and congestion are always something you need to battle with.  Hidden away on the fringe of the city is this fully furnished four-bedroom residence with a study. This stylish residence is nestled in a large residential community in the desirably tranquil cul-de-sac location of Ashaley Botwe.
Lakeside Estate: GH C 1,852,830 ($420,00)
With an environmentally-conscious design that maximizes home efficiency, this spectacularly modern family home provides plenty of space for entertaining.
The plan incorporates four bedrooms with built-in robe and ensuite, a study nook, luxurious bathroom, a cleverly concealed laundry room, a spacious living room, visitor's washroom, water reservoir with osmosis systems installed, security barbed wires, car port, and a fitted kitchen with smoke extractor and sanitizer.
The generously-proportioned interior flows effortlessly from the open-plan living space to the private covered balcony from which you can admire the views of the garden and beyond.
With its warm sense of community and only moments to shops, eateries and transport, as well as a spacious well-structured playground for adults and kids, coupled with boat and horseback riding, this home provides all the elements for relaxing and easy-care living.
East Airport
Located just 20 minutes from the Kotoka International Airport, the East Airport Housing Estate is a jewel of the Regimanuel Gray Group. This is a planned community of 600 executive single and two-storey houses, as well as 240 luxury apartments set in a serenely landscaped environment including a beautiful community center with pool and tennis courts. The estate also includes facilities for recreation, shopping, and education.
East Airport; Regimanuel: GH C 3,088,050 ($700,000)
East Airport offers convenience, utmost environmental serenity, secured living, superb infrastructure, and state-of-the-art estate management. This property is a four-bedroom self-compound house with two-bedroom boys' quarters for sale. This property is located in the Regimanuel Estates in East Airport off Spintex Road. This property's first floor offers an ensuite master bedroom and two other bedrooms with a shared bathroom. There is also a very spacious family room upstairs, as well as a small balcony upstairs.
Downstairs has the kitchen which comes with two store rooms. There is also dining and living areas plus an ensuite guest room. The outside has a two-bedroom outhouse with shared facilities, i.e. bathroom and toilet. It also has a kitchenette. The house also comes with a two-door garage.
Max Gapher takes deep interest in the areas of Finance, Agriculture, Technology and Marketing. He is a Banking and Finance Student of the Wisconsin International University College. Writing to him is always an emotional journey. He believes connecting with your emotions tend to bring out the best pieces. Max is also a serial entrepreneur and believes entrepreneurship is the path to follow if Africa wants to see a better version of herself in the future.