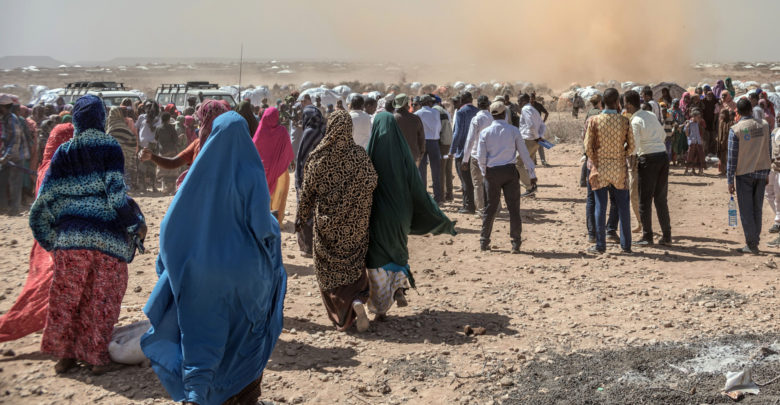 Moyale Hospital in Kenya treats 14 people for bullet wounds
Fleeing Ethiopians housed in schools, churches, mosques, camps
Thousands of members of Ethiopia's largest ethnic group fled to neighboring Kenya after the military said it "mistakenly" killed nine civilians and injured 12 others in a market town that straddles their border.
 The ethnic Oromo refugees, mostly women and children, began arriving in northern Kenya on March 10, Halkano Halake, spokesman for the governor of Marsabit county, said by phone. Nine corpses were received at Moyale Hospital, while 12 people were treated for bullet wounds on the same day and two others on Sunday, the facility's chief executive officer, Arero Bikicha, said.
 "There have been gunshots, there are killings," Halake said. Refugees "are spread in schools, churches, mosques, private residences and three camps." State-owned Oromia Broadcasting Network put the number of people who fled to Kenya at 50,000, citing Moyale Mayor Aschalaw Yohannes..
 More than two years of protests in Ethiopia's Oromia and Amhara regions have left hundreds of people dead, while recent conflict between the Oromia and Somali regions has forced more than 900,000 people to flee their homes. Combined, they pose the largest challenge to Ethiopia's ruling coalition since it took power a quarter-century ago.
'Wrong Tip-Offs'
Conflict in Moyale may "directly affect" an intersection of Kenya's Lamu Port, South Sudan, Ethiopia Transport corridor, which envisages a $7 billion railway and a $3 billion oil pipeline passing through the town. A highway linking Kenya's Isiolo town to Marsabit county and Moyale was opened in July.
The LAPSSET project "won't be realized if this conflict will not subside," Halake said.
The latest killings happened after the military received "wrong tip-offs" that led them to identify civilians as members of the outlawed Oromo Liberation Front, the ruling party-funded Fana Broadcasting Corp. reported Monday, citing Hassen Ibrahim, a military official in charge of administering the state of emergency Ethiopia declared on Feb. 16. Five members of Ethiopia's military including a commander have been "disarmed and kept in custody for investigation," Hassen said.
Ethiopian Information Minister Negeri Lencho and Defense Minister Siraj Fegessa didn't respond to two text messages and two calls each seeking comment.
Moyale is at the southern extreme of Ethiopia's longest internal boundary and divided between Kenya as well as two separate, competing Ethiopian administrations of in the Oromia and Somali regions.
"Whenever there are clashes between Oromo and Somalis, there's always spill-over" into Marsabit, according to Halake. Ethiopian forces closed the border with Kenya on March 10 and Kenyan police are patrolling entry points along the border, he said.
Bloomberg